Alpha (α), the first Greek alphabets is one of the most commonly used Greek letters in mathematics and science. However, inserting alpha symbol in Word is not straightforward as there is not keys associated with it. So, in this blog you learn four different methods to type Alpha (α) symbol in Microsoft Word.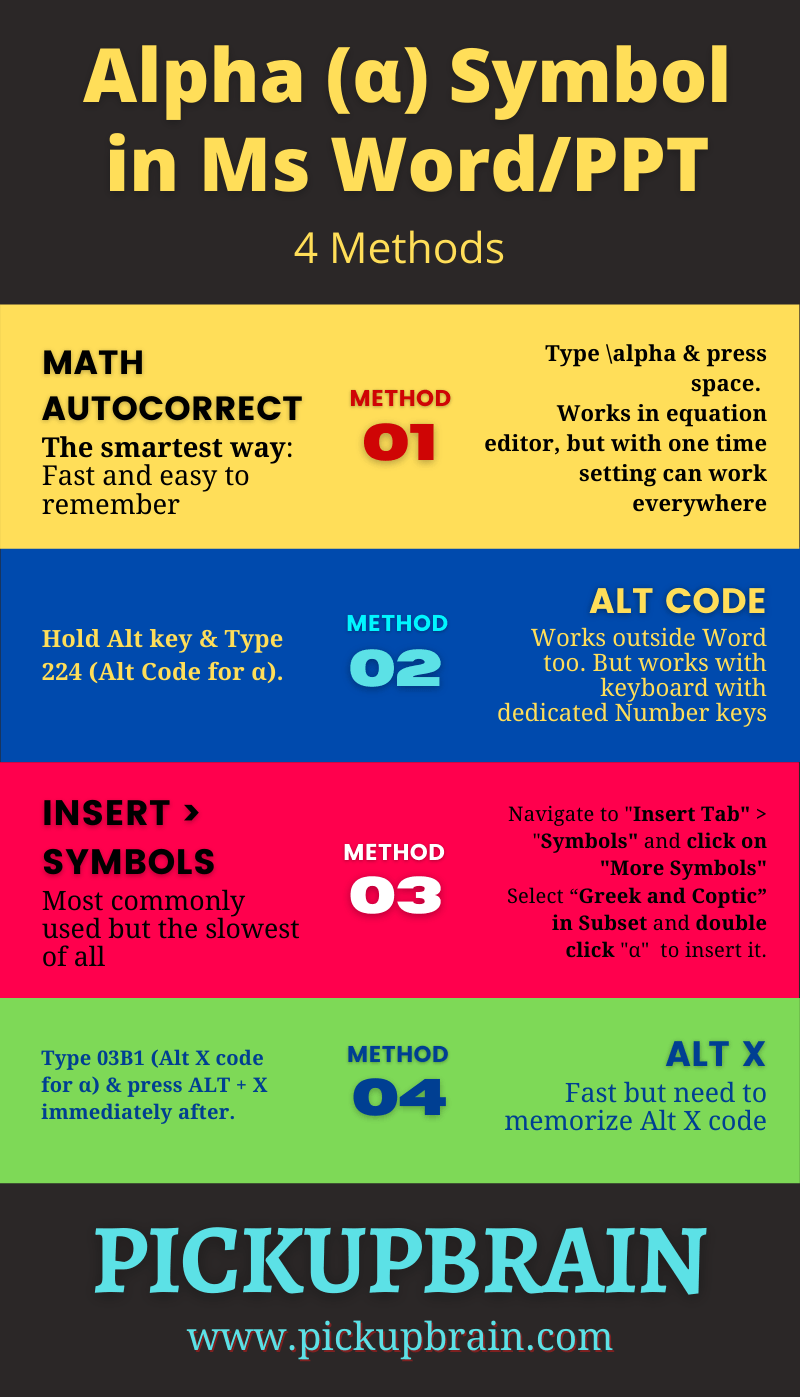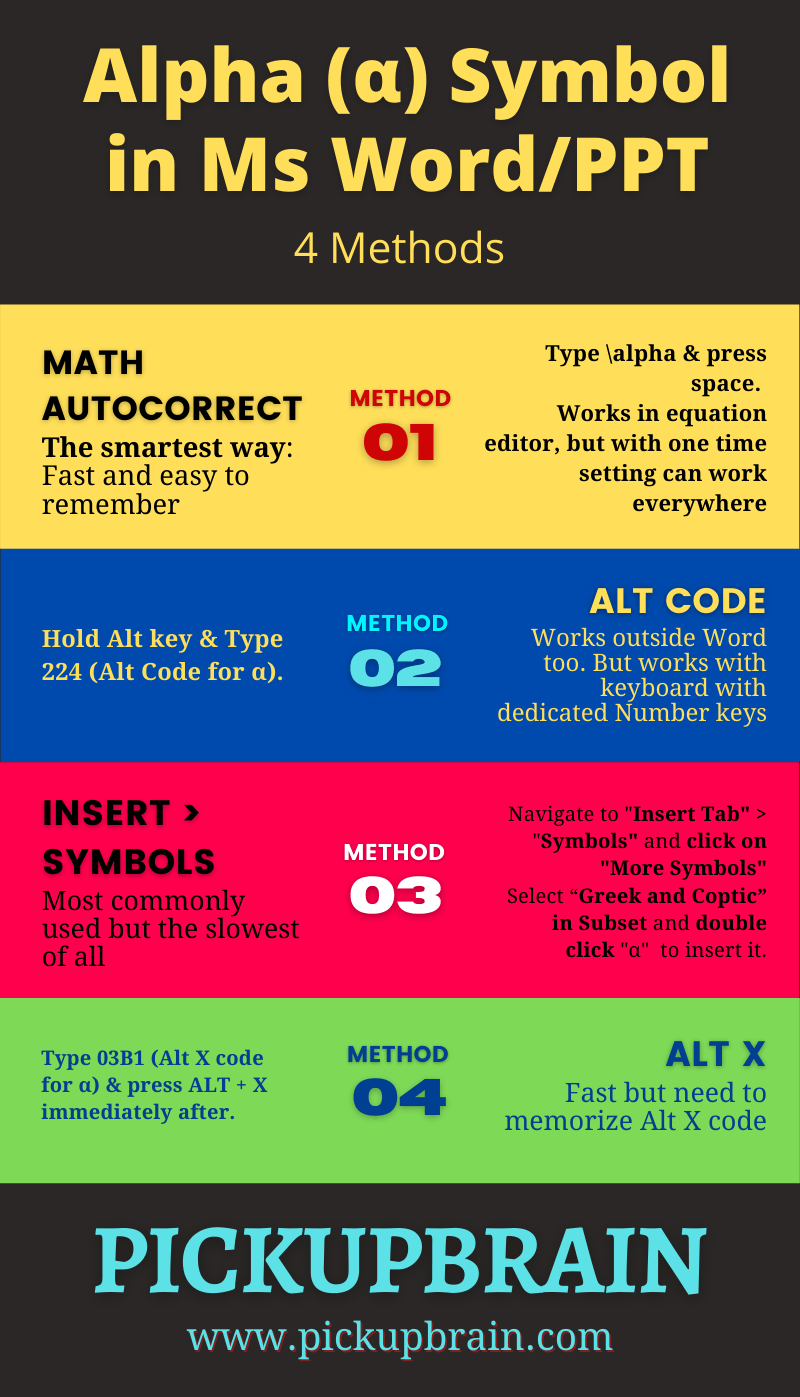 Method 1: Math Autocorrect – The smartest way to insert Alpha
To insert alpha, simply type "\alpha" and hit space. This is math autocorrect shortcut and works only inside equation editor by default. However, using the following one time setting, you can make it work outside equation editor too.
Click Files → Options to open Word Options
Navigate to Proofing and click AutoCorrect Options button to open Auto Correct window
Navigate to Math Autocorrect tab
Check the box against "Use Math Autocorrect options outside Math region"
Click Ok and close all the dialogue box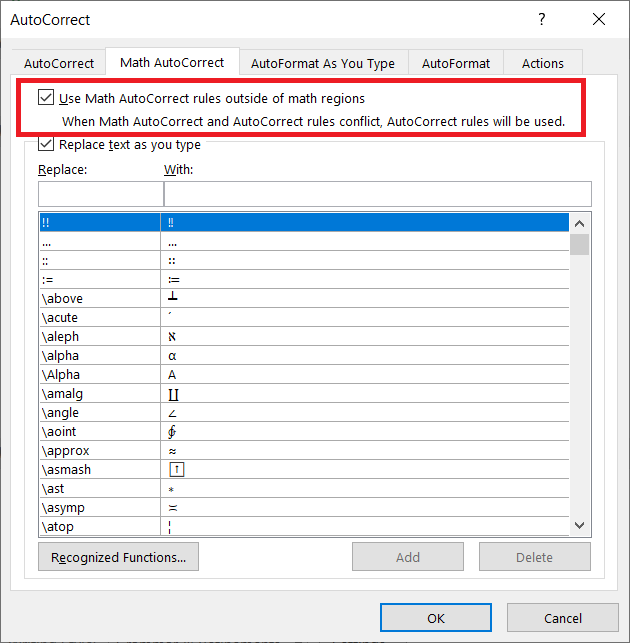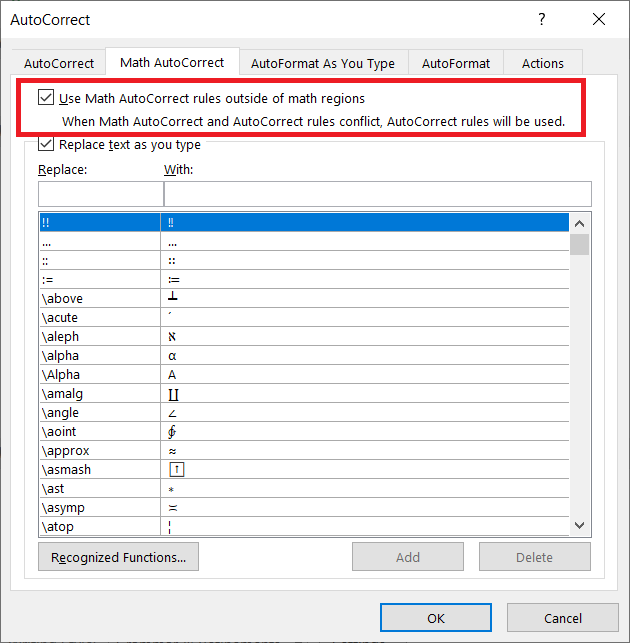 Method 2: Insert > Symbols
It is the most commonly used method to insert symbols in Word including Greek letter. To insert Alpha (α):
Navigate to Insert Tab > Symbols and click on More Symbols. to open Symbol window.
Select "normal text" or any other desired font in Font and "Greek and Coptic" in Subset.
Search for "α" symbol and double click it to insert.
Click Cancel to close the Symbol Window.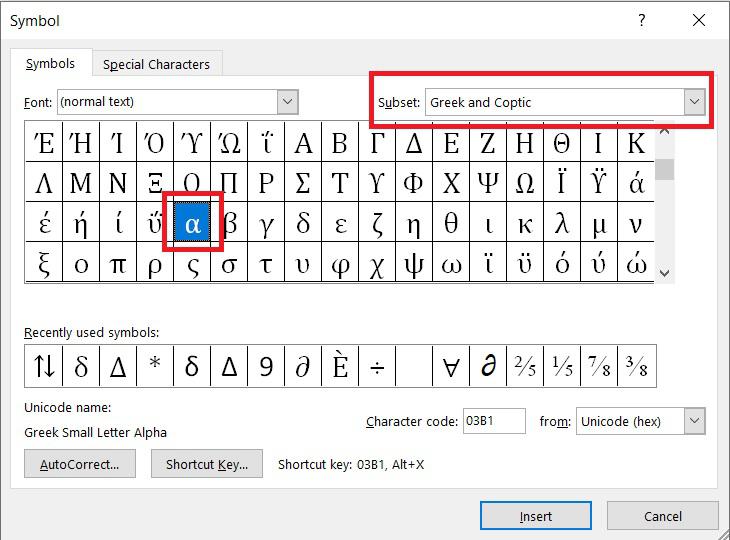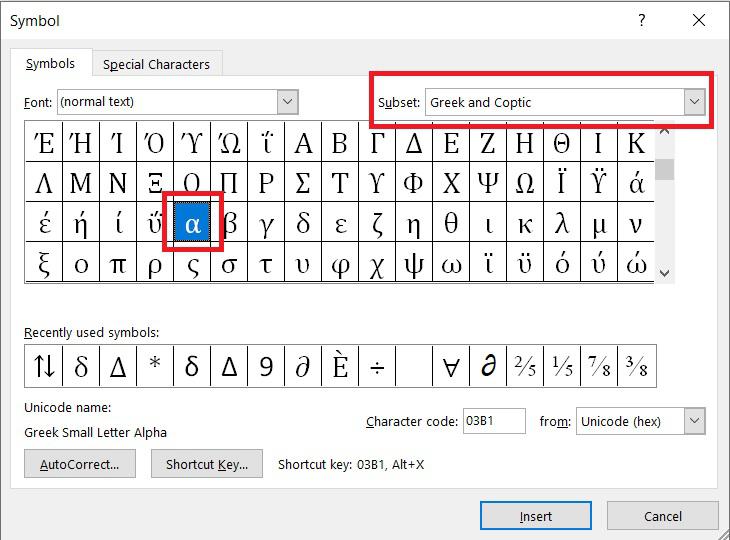 Method 3: Alt X Code – Fast but need to memorize code
In this method, you type 03b1 (Alt X code of Alpha) and press Alt X immediately after it to get α.
Method 4: Alt Code
This method is universal (i.e. works even outside of Ms Word) but needs a dedicated Number Pad keys in your keyboard. To type alpha, hold down Alt key and type 224 using special number pad keys.
Summary
Four methods to type alpha viz. Math Autocorrect, Insert > Symbols, Alt X and Alt code are summarized below.
Method
Description
Math Autocorrect (Fastest and Easiest)
Type \alpha & hit space. Works in equation editor, but with one time setting can be made to work everywhere.
Insert > Symbols
Navigate Insert > Symbols and click on More Symbols.
In the Symbol widow, select "Greek and Coptic" in Subset and double click on α symbol to insert it.
Alt X
Type 03b1 and press ALT + X immediately after it.
Alt Code
Hold Alt key and type 224 using number pad keys. Works only with keyboard with dedicated Number Pad.
How to insert alpha symbol in Word (Windows)