Often Asterix (*), x or dot (.) symbols are used for multiplication and forward slash (/) for division symbol in Word. While entering it directly from keyboard, they are either are not displayed correctly (at the center height) in Ms Word or are not correct mathematical symbol. It is also important that these mathematical symbols appear at mid-elevation. For example, instead of "
" where "." is at the bottom elevation, it should be "
" or use "÷" symbol instead of "/"
Microsoft Word shortcut for correct multiplication and division symbol
The best method to insert correct symbols is by using Math Autocorrect shortcut of Microsoft Word. It is enabled in Ms Word right out of the box but works only inside equation editor. However, a one time setting can enable it outside equation editor too.
To enable Math Autocorrect outside Equation Editor, follow these steps;
Click Files → Options to open Word Options
Navigate to Proofing and click AutoCorrect Options button to open Auto Correct window
Navigate to Math Autocorrect tab
Check the box against "Use Math Autocorrect options outside Math region"
Click Ok and close all the dialogue boxed.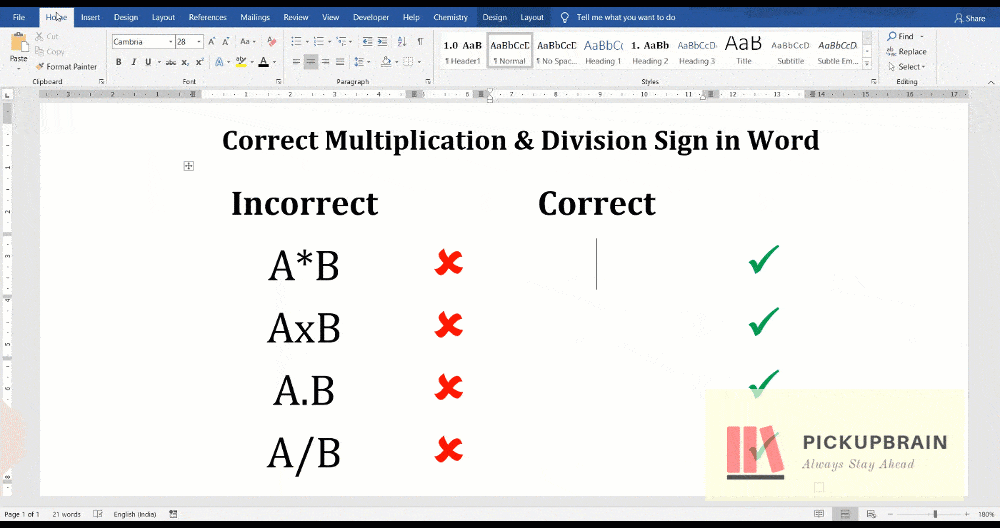 Correct multiplication symbol in Microsoft Word
Multiplication symbols viz. (.), (*) and (×) are used to denote multiplication between two expression or numbers. It is important that these symbols appear at the mid-elevation. When dot (.), Asterix (*) or (x) are used for multiplication, they appear at the bottom (dot or x) or at the top (*) instead at mid-elevation.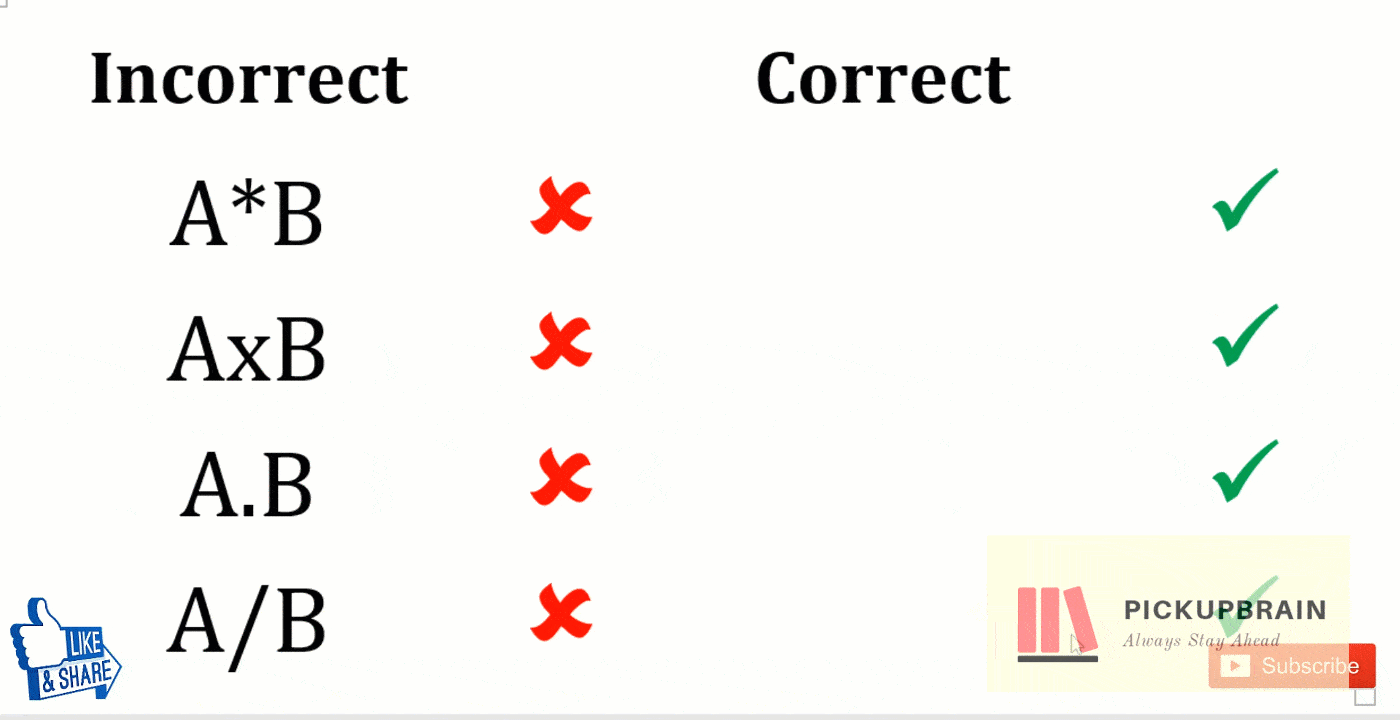 Following table shows Alt code and Math Autocorrect Shortcut (more easy to remember) for inserting correct multiplication symbol in Ms Word. Note <sp> in Math Autocorrect Shortcut is for spacebar. Visit our blog for shortcut on more Mathematical and scientific symbols.
| Incorrect | Correct | Alt Code | Math Autocorrect Shortcut |
| --- | --- | --- | --- |
| A*B | | | \ast<sp> |
| | | Alt + 0215 | \times<sp> |
| A . B | | Alt + 0183 | \cdot<sp> |
Alt code and Math Autocorrect Shortcut for Correct Multiplication Symbol
Correct division symbol in Word

For typing division sign use "÷" instead of "/". To get division symbol (÷) in Ms Word, use Alt + 246 or Math Autocorrect shortcut "\div". Although Math Autocorrect shortcut works only inside equation editor, you enable it to use outside equation editor.
Related Posts
Conclusion
The correct multiplication and division symbols are dot (A · B instead of A . B), Asterix (
instead of A*B), times (A × B instead of A x B) and division symbol (A ÷ B instead of A / B). Alt codes and Math Autocorrect provides proper way to insert these symbols in Ms Word.