Introduction
Welcome to the digital age of document creation, where Microsoft Word continues to reign supreme. While many of us are familiar with the basics of this versatile word processor, there are many lesser-known, hidden gems within MS Word that can significantly enhance your productivity and creativity. In this blog post, we're going to unveil some of these super useful tricks that are not only relevant today but will also make you a Word wizard. So, let's dive in and explore these secrets that can transform your Word experience!
1. Smart Lookup: Your Personal Word Assistant
Available: Ms Word 2016 and later.
Did you know Word has a built-in assistant that can provide you with definitions, synonyms, and even images related to a specific word or phrase? Say hello to Smart Lookup! Simply select the word, right-click, and choose 'Smart Lookup' from the context menu. A side panel will open up, offering you a wealth of information to enhance your writing and research.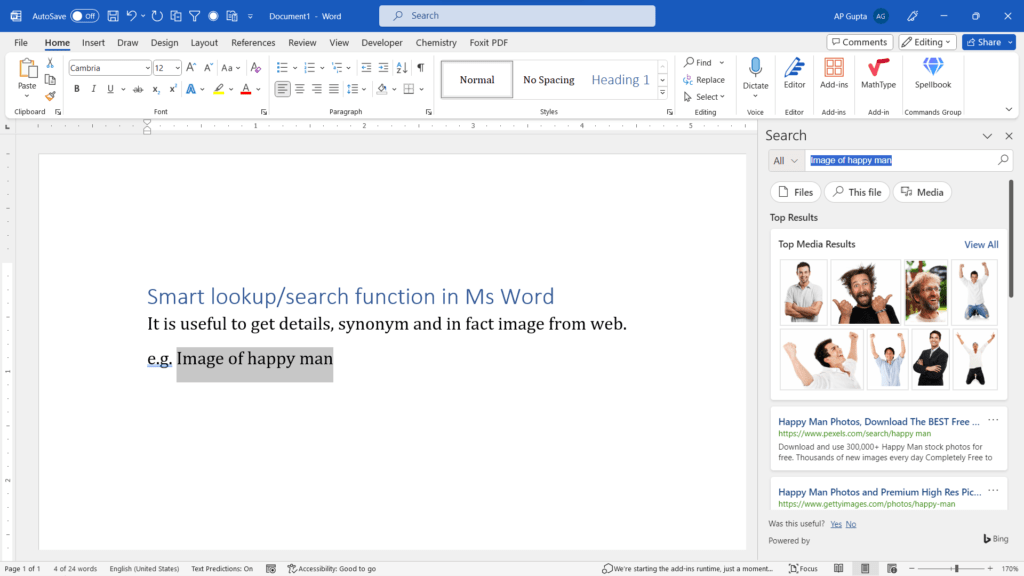 2. Co-authoring: Collaborate in Real Time
Available: Microsoft 365
Gone are the days of sending multiple versions of a document back and forth via email. With Word's co-authoring feature, you can work on a document simultaneously with your colleagues or clients. Simply save the document to OneDrive or SharePoint, invite others to collaborate, and watch as changes are made in real time. This seamless collaboration will save you time and ensure everyone is on the same page.
3. Math AutoCorrect Feature: Type symbols and equations with ease
Available: Ms Office 2007 and later
Math AutoCorrect feature is a powerful tool that can save you a lot of time and effort. You can't afford to miss this trick to get math and science symbols, equation etc if you are from STEM (Science, Technology, Engineering and Mathematics). This feature includes LaTeX like feature to get equations and symbols. For e.g. to get alpha symbol (α) in Ms Word, simply type \alpha and hit space. For an exhaustive list of Math Autocorrect shortcut visit here.
4. Focus Mode: Distraction-Free Writing
Available: Word 2019 and later
In a world full of distractions, maintaining focus while writing can be a challenge. Luckily, Word's Focus Mode can help. By entering Focus Mode, all unnecessary elements, such as toolbars and menus, fade away, leaving you with a clutter-free interface that lets you concentrate on your words.
To activate Focus Mode, go to the 'View' tab and click on 'Focus' in the 'Immersive' group.

5. Dictate with Ease: Slow typing not a problem
Available: Word 2016 and later
Say goodbye to typing fatigue! Utilize Word's built-in dictation feature for effortless content creation.
Go to 'Home' > 'Dictate' and start speaking. Word will convert your speech into text, allowing you to draft documents hands-free.
To use this feature, go to the 'Review' tab and click on 'Read Aloud' in the 'Speech' group.
6. Quick Parts for Reusable Content: Do it once and use it for ever
Available: Ms Word 2007 and later
If you frequently use the same snippets of text or elements, such as headers, footers, or logos, the 'Quick Parts' feature (Insert > Quick Parts) is your time-saving ally. Save these elements as Quick Parts and insert them with a click whenever needed. For more details on how to create reusable text snippets in Ms Word visit here.
7. Repeat last action: Automate it
The "Repeat the Last Task" feature in MS Word allows you to quickly and easily replicate the most recent action you performed. Whether it's formatting text, inserting a table, deleting or adding rows or applying a specific style, this function eliminates the need to navigate through menus or remember keyboard shortcuts.
To repeat last task simply hit F4.
Applicable: Office 2007 onwards
8. Shrink to one page: Automatically adjust size of text to fit in 1 page
Available: Ms Word 2010 and above
While writing some text or letter you may need to ensure that text fits in one page. If you need to do this regularly then this built in feature of Ms Word will save your lot of time. To use this command you need to add it into quick access tool bar using the following steps
In Customize Quick Access Toolbar (the small down arrow) and choose More Commands. This opens Ms Word options
Under Choose commands from, select All commands
Select Shrink one page from the list of commands.
Click Add to add this in Quick access tool bar
Click ok
Once shrink one page button is added in Quick Access toolbar do the following
Select the text that needs to be shrink in one page and click the "Shrink One Page" button.
9. Jump to last edited position: Shift + F5
Available: Ms Word 2007 and later
While editing long document you may quickly need to jump your edited places. The Shift-F5 keyboard shortcut is a powerful tool that allows you to quickly jump to the place in your document that you most recently edited. Press Shift-F5 once to jump to the place in your document that you most recently edited.
10. Optimum sized table: Autofit column width
Available: Ms Word 2007 and later
After filling contents of table, in just few clicks you can quickly optimize (reduce) the size of the table.
To do so, select the entire table then go to Layout > Autofit > Autofit contents. It allows you to adjust the size of your table columns and rows to fit the content or page margins. For more details on how to autofit contents of table visit here.
Conclusion
There you have it – five hidden gems in MS Word that will undoubtedly boost your productivity and make your life easier in 2023. These tricks may not be as well-known as some of Word's staple features, but they are certainly worth exploring. So go ahead, unlock these hidden treasures, and take your Word game to the next level!
Related Posts